For centuries, the pilgrimage to Mecca has inspired mighty rulers to commission spectacular works of art and artists to create them. 
Credit main photo: Magnetism II, Ahmed Mater, 2012. Image courtesy of the artist
A wide range
In the exhibition we have brought together more than 300 appealing pieces from important collections of Islamic art, including that of the Tropenmuseum itself. The curated pieces span a wide range: from the 10th century to the present day, and from China and Indonesia to Turkey and Morocco.
The holy Ka'ba
One of the items on show is an impressive 19th century litter of four metres high, that would be borne on the back of a camel in the annual Hajj caravan from Cairo to Mecca. The antique Kiswa textiles are another showstopper. Richly embellished in gold and silver thread, these cloths were used to cover the holy Ka'ba. Each year new cloths are made for the purpose. 
Credits photo: 
Curtain (sitara) for the outer door of the Ka'ba, silk, (gilded) silver wire, cotton, Cairo, Egypte, 1606. Hajj and the Arts of Pilgrimage. Khalili Collections, Londen
Collection number: txt 253. More info about this object.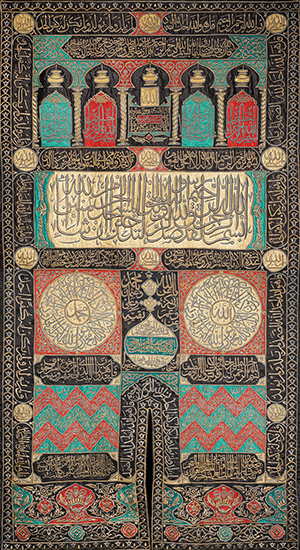 Contemporary art
Also on show are photographs of 19th century pilgrims and excerpts from the first documentary about the Hajj, which was made in 1928. In addition there are personal stories from Dutch pilgrims nowadays. And there's contemporary art, such as the 'Magnetism' installation by artist Ahmed Mater, symbolising the pull of the Ka'ba.