During Keti Koti we commemorate and celebrate the abolition of slavery.
Every year Keti Koti begins with the Bigi Spikri parade. It's a colourful parade, with people wearing traditional dress and beautiful jewellery. You often also see people wearing a black badge with 1873 in white numbers. By wearing this badge they are showing that slavery was formally abolished in 1863 but those previously enslaved were compelled to work on the plantations for another ten years. So they were not really free until 1873.
Creative activity: Make your own Keti Koti badge
From 13 May in the weekends Keti Koti is the theme of the party shop in the Tropenmuseum. You'll get to know more about the commemoration and celebration of Keti Koti. During the activity we'll make a badge. A badge is a powerful way of conveying a statement or message. Just like the 1873 badge. You'll make your own badge specially to wear during Keti Koti. Hedy Tjin, the illustrator of the book Op de rug van Bigi Kayman, made two line drawings specially for these badges.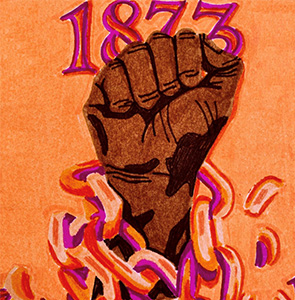 Practical information:
| | |
| --- | --- |
| When: | Saturdays and Sundays |
| Time: | 12 noon – 4 pm |
| Who for: | 4+ |
| Price: | free (excl. museum entrance) |
| Reservations: | not possible | join in when there's room, entrance until 3.30 pm |
| Location: | FESTIVITIES! Worldwide |
| Please note: | this activity is not for out-of-school groups. Check what's available for out-of-school groups. |
| More information: | +31 (0)88 - 0042 840 (Mon - Fri: 10 am – 5 pm) |