Plastic is all around us. Many objects around us are made of plastic – soft or hard plastic, transparent or in all the colours of the rainbow, extremely thin or massive, functional or decorative. Plastic doesn't disintegrate and after decades of plastic production that is now precisely the problem. Four young designers were invited to make a design for the Plastic Crush exhibition which opened last November in the Tropenmuseum. They took their inspiration from objects - from the pre-plastic age – in the collection and reflect on the impact plastic has on our society.  
Young Talent in the Dutch Design Week 2022
During a pop-up expo in the Dutch Design Week 2022 in Eindhoven (22-30 October) four young talented designers exhibited the designs they had made for the new exhibition in the Tropenmuseum, Plastic Crush. With more than 2,600 designers and 350,000 visitors from the Netherlands and elsewhere, the Dutch Design Week is the biggest design event in Northern Europe.
In Plastic Crush you can see objects from the collection, contemporary art and plastic icons. Plastic literally conquered the world. But the dream that plastic would make the world a better place has made way for the fear that the world will be flooded by plastic waste.
Daria Biryukova, Jie Chen, Gundega Strauberga and Lena Winterink took their inspiration from objects from the pre-plastic age in the Tropenmuseum and Museum Volkenkunde. Daria Biryukova is a graduate of the University of Applied Arts in Vienna, the other three designers of the Design Academy in Eindhoven.
Daria Biryukova - Natural versus Synthetic
Daria Biryukova made eight works of art with eight colours, both synthetic and natural. Her inspiration for this was a set of synthetic colours from 1983 which had been used to colour shadow puppets for a Karagöz theatre in Turkey.
The Turkish shadow theatre is named after the most important personage - Karagöz. His name literally means Black Eye because he has a huge black pupil in his eye. Here he is dressed as a woman. Made of camel leather, before 1953.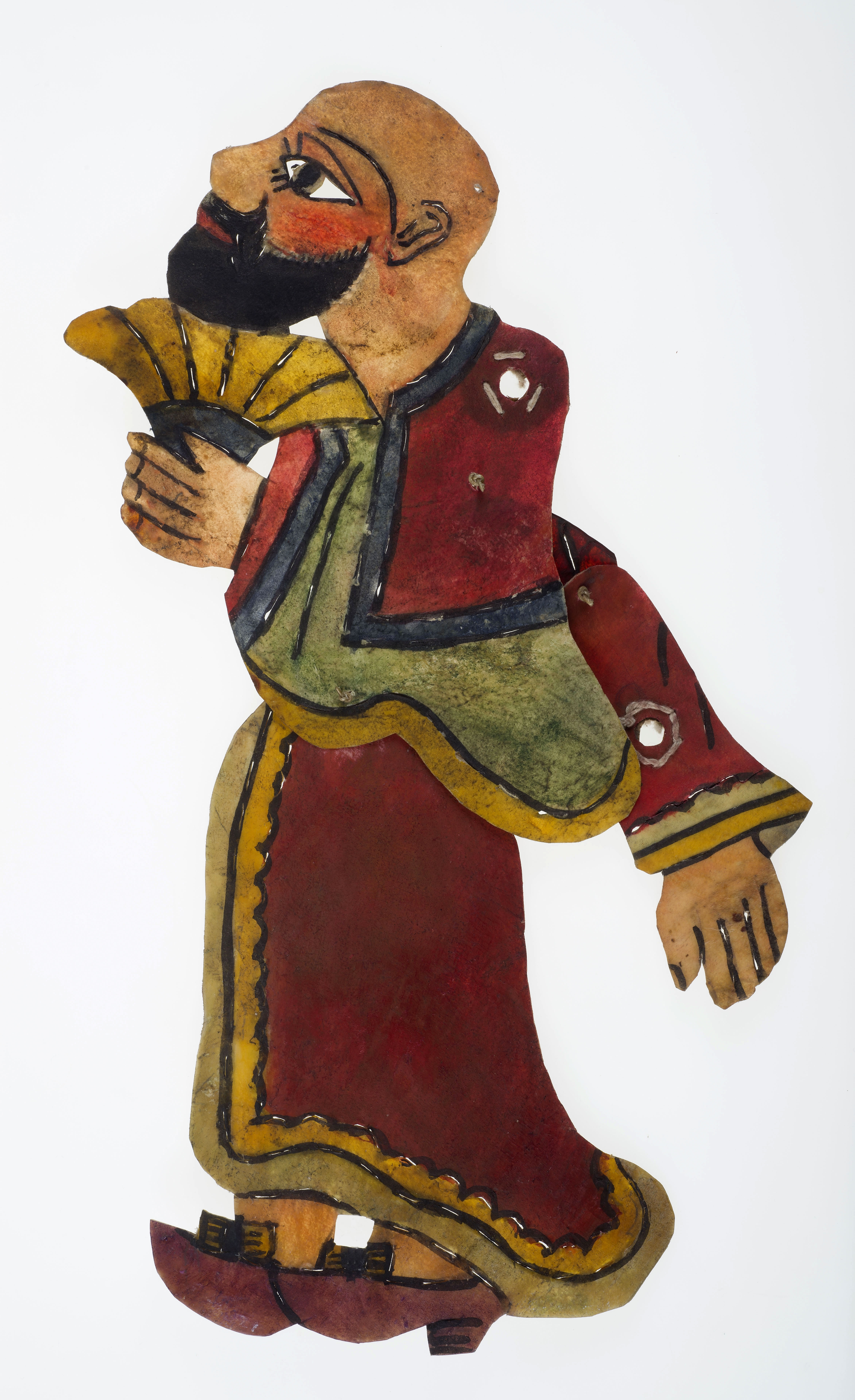 Natural dyes are being replaced by synthetic dyes and recipes for natural dyes are gradually being forgotten. This makes it more and more difficult to discover the original meaning of a colouring process. Daria revealed the colouring process of eight colours.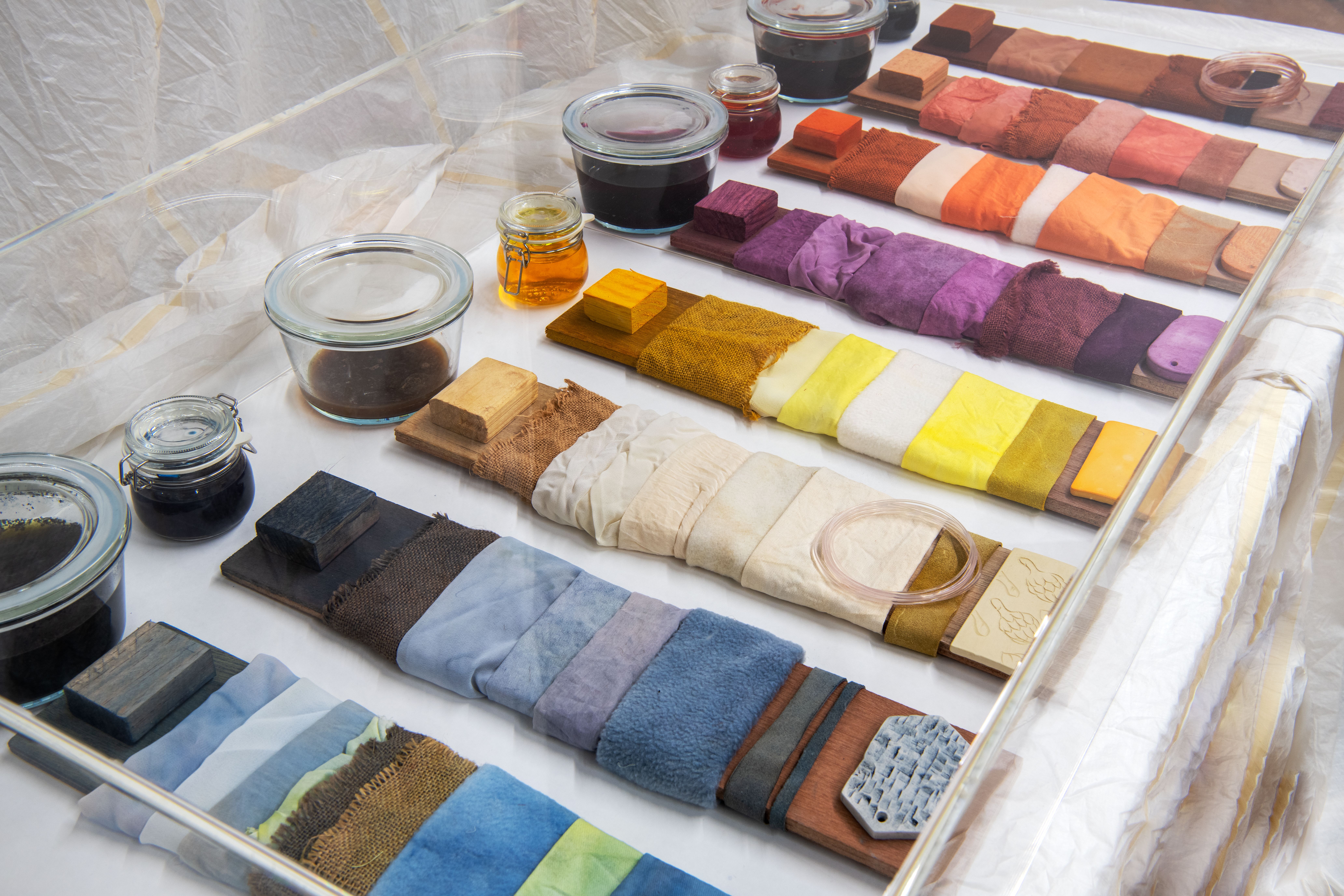 Jie Chen – Artifiction
A carrying basket with a water bottle and a bamboo telephone from Indonesia, which she chose from the collection, reflect her own designs: designs that communicate. Stories are connected to objects, people are part of a story, together all stories form our history. For Plastic Crush Jie Chin collected words and sentences and 'wrote' these on 'porcelain paper'. These stories on fragile carriers show the vulnerability of those stories and memories.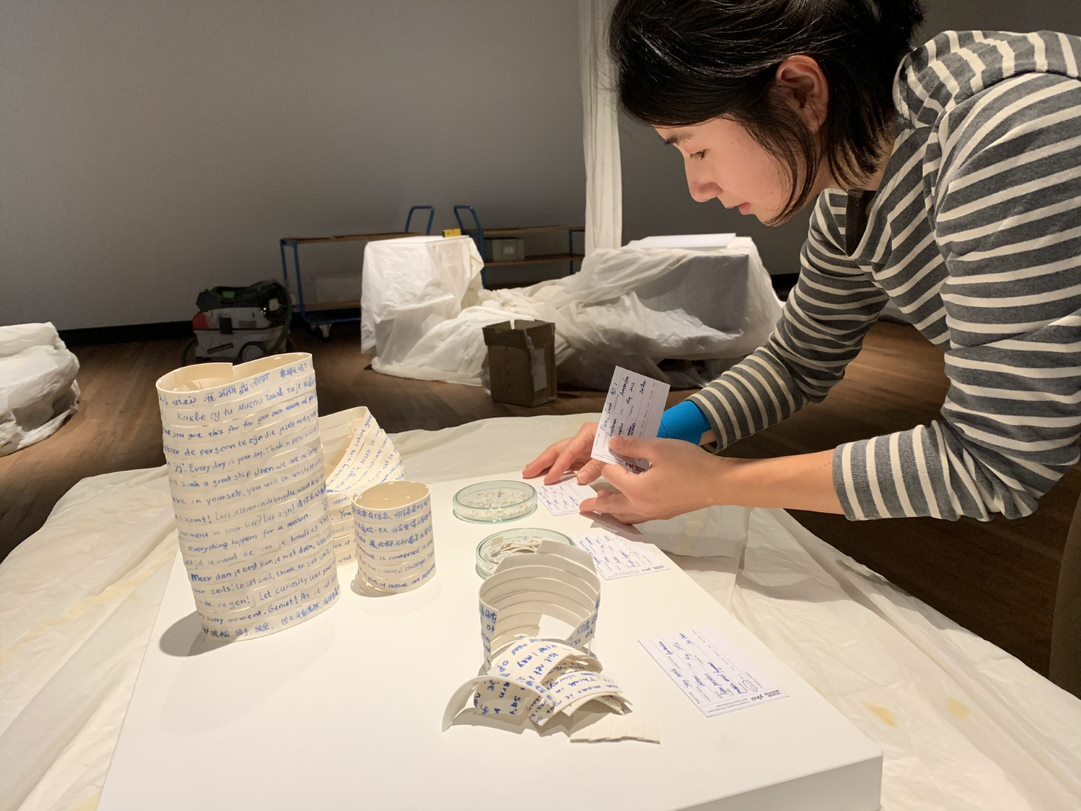 A rattan carrying basket and an earthenware water bottle with a gold spout. This water bottle was a gift from the ruler of Karangasem in Bali to Governor General Pijnacker Hordijk in 1889. Combatants in Aceh (Sumatra) used this bamboo 'telephone' in the Aceh war (1873-1942).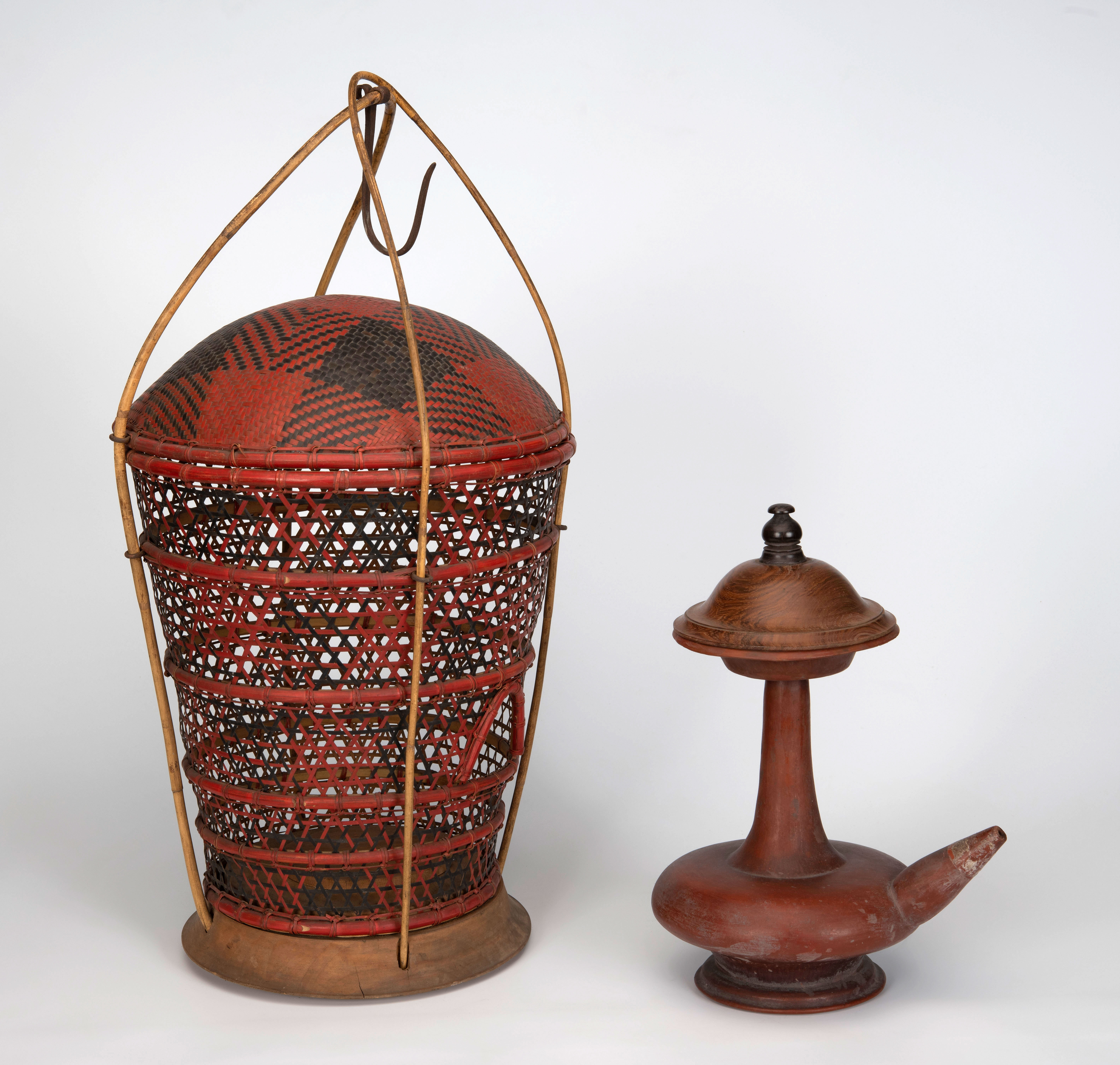 Gundega Strauberga - Roses Are Blue, Violets Are Red
A Turkish DIY package for making artificial flowers from 1985 inspired Gundega Strauberga to make a combined artificial garden and shop with flowers, plants and stones of plastic. She reflects on the creative endeavours and obsession of human beings to immortalize nature in other materials and transform natural beauty.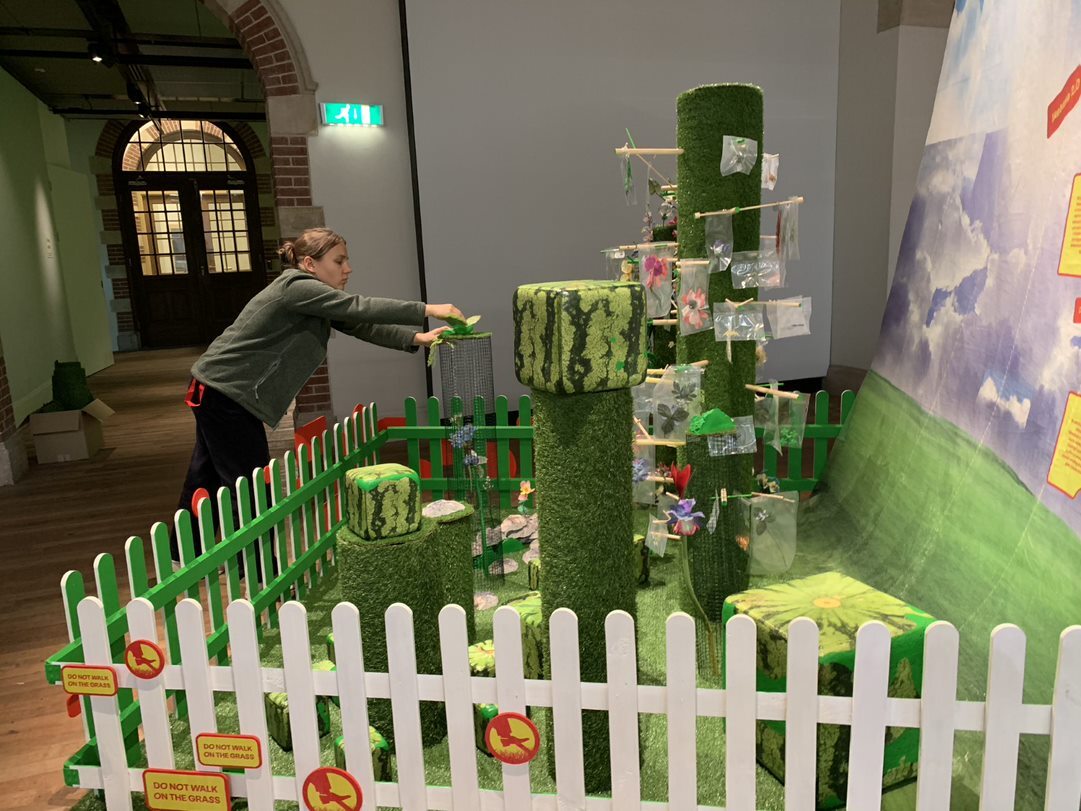 Lena Winterink - Made Here
Lena Winterink designed a coat comprising nothing but 'Made in' labels of cast-off clothes. The labels on our clothes give no information about the origin of the materials used. Five items of clothing made from different local materials made on different continents were her inspiration. She asked herself what materials do we wear today. Where do they come from? Who made them? What does the place of production still mean?