In Mexico people celebrate on 1 and 2 November. It is Día de Muertos, the Day of the Dead. For many Mexicans it's a special festival remembering loved ones who have died, both people and animals. Their lives are celebrated! Not in a sad way but joyfully! People get together and reminisce. There's delicious food, happy music and the houses and streets are colourfully decorated with countless streamers and flags. In Mexico City there are huge parades through the city. Everyone dresses up in splendid colourful clothes.
Day of the dead
There are skeletons and skulls in the streets and houses; shops and markets sell sweets and toys in the form of macabre symbols of death, such as sugar skulls, skeleton dolls, coffins and depictions of death, La Muerta.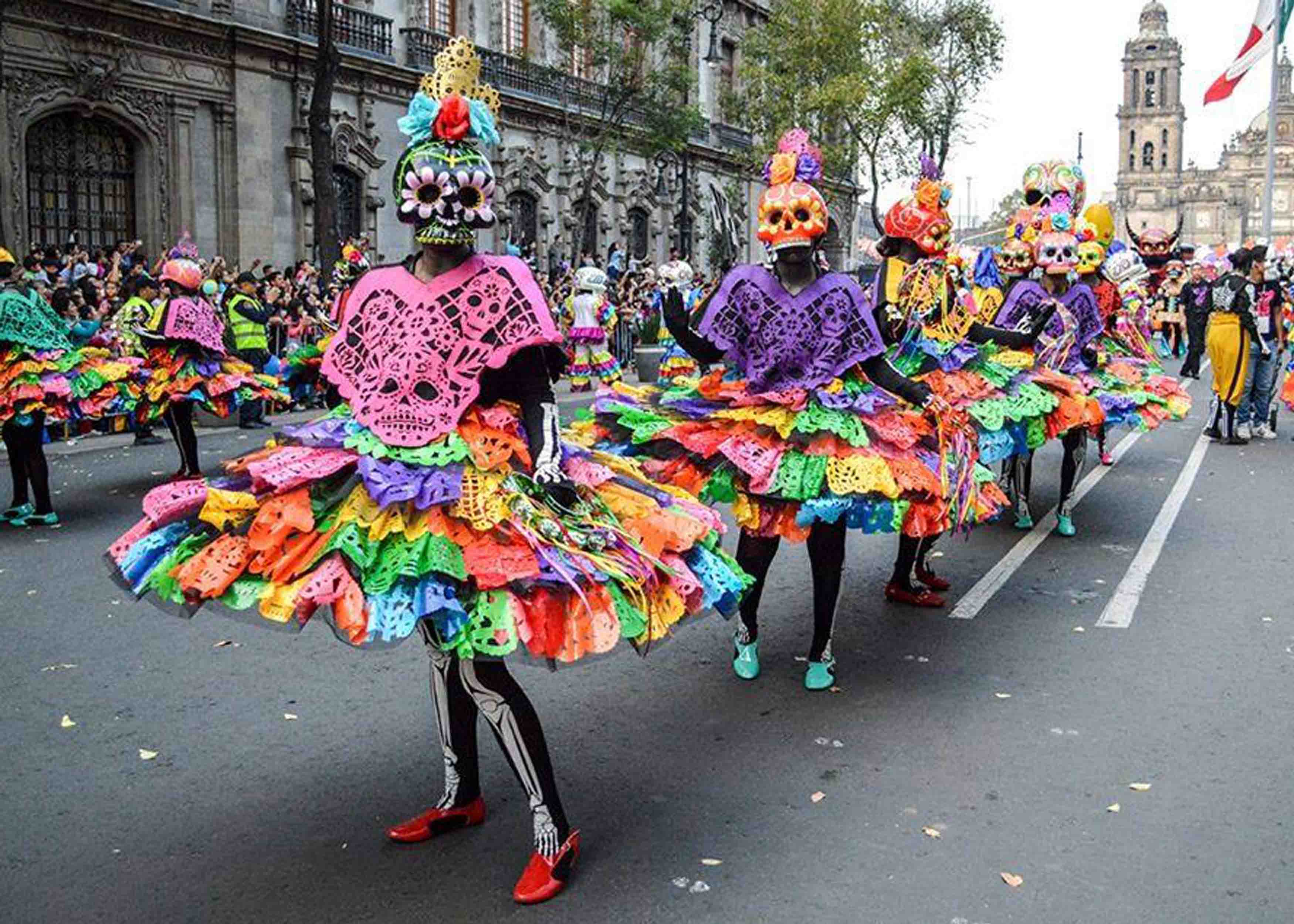 During Día de Muertos young and old visit the family grave. These graves are carefully cleaned, memories are recalled and the lives of the deceased are lavishly celebrated with flowers, food, drink and music.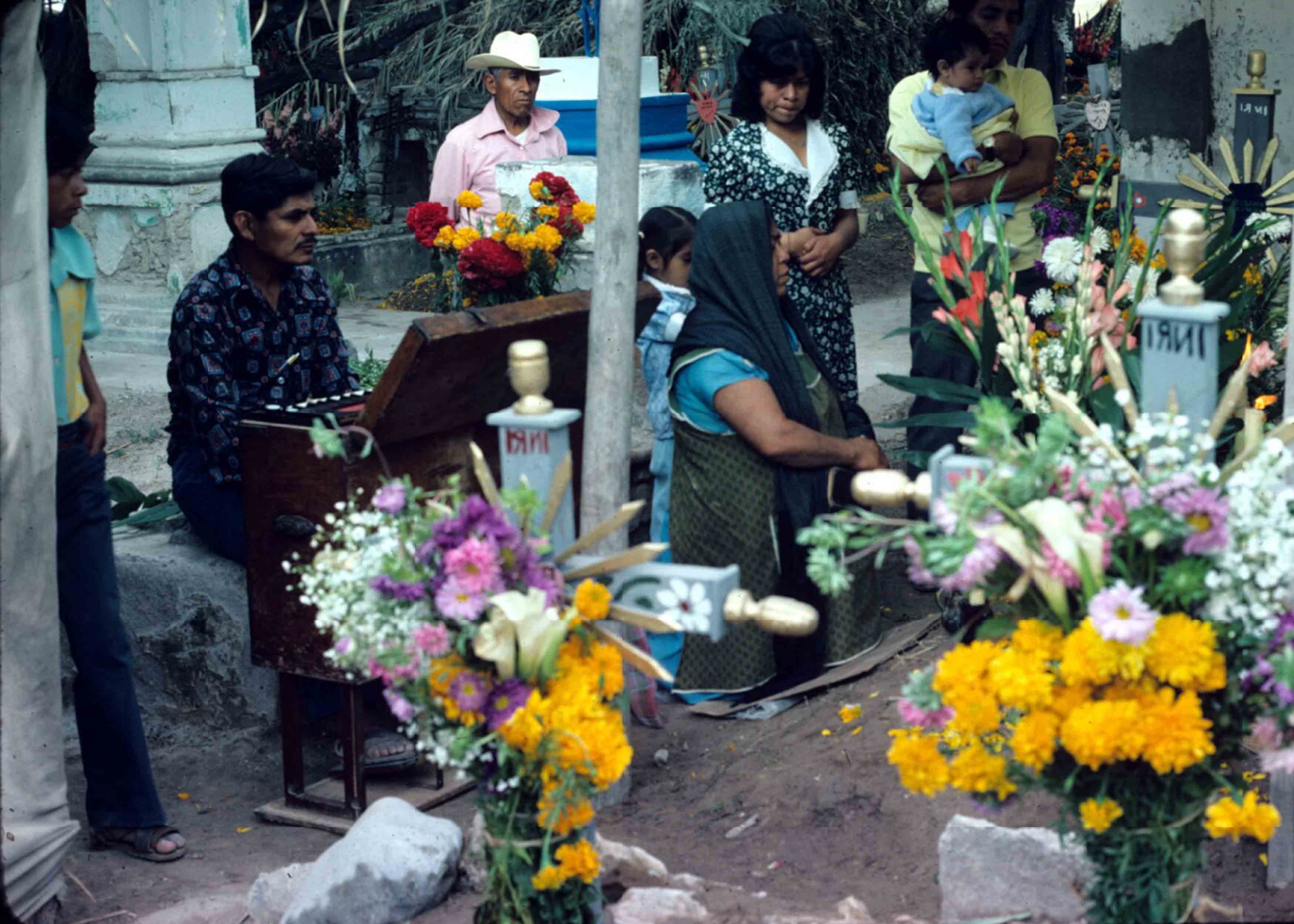 Family visiting a grave on All Souls / Día de Muertos. Photographer Ted Leyenaar, 1975, RV-13788-420-723 
Soul and salvation
Día de Muertos is a festival that brings together rituals from different religions: the mediaeval Spanish-European catholic tradition of honouring the souls of the dead and the Pre-Columbian death cult. The Aztecs, Maya and Purépecha, for example, honoured their ancestors at specific times of the year with rituals and festivities, in which their skulls were displayed. The goddess Mictecacihuatl, the 'lady of the dead', who watched over the bones of the dead and ruled life after death, played an important role in the lives of the Aztecs. 
The Spanish conquistadors in South America combined this ancestor worship with the catholic traditions of All Saints and All Souls. Catholic saints are remembered on All Saints' Day. On All Souls' Day all the dead are remembered worldwide with prayers and a visit to the graveyard.
Home again briefly
On Día de Muertos the souls of loved ones who have died briefly return to their family and are given a warm, affectionate welcome. Graves are cleaned and cheerfully decorated with candles, garlands, flowers and paper cuttings. Family parties are held, in the graveyard too, with delicious things to eat and drink, dancing, singing and fireworks!
The souls of the dead are offered gifts, such as clothes, their favourite food, drink and other little things. Photos, incense, candles and cempasúchil are arranged on altars dedicated to dead relatives. Cempasúchil, a striking, orange-coloured flower with an unusual scent, could help the dead find their way back home.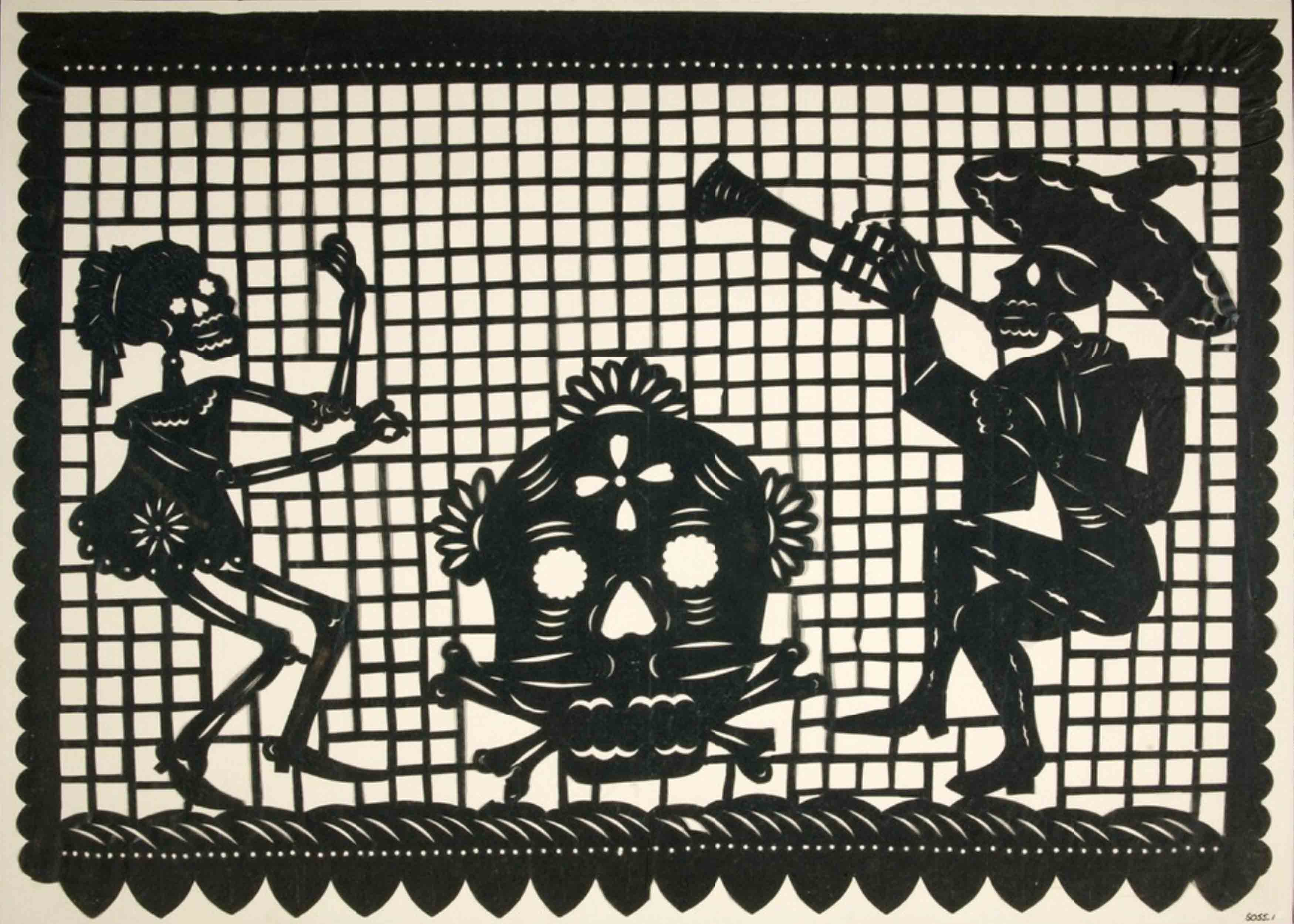 Paper cutting, circa 1978, TM-5055-1
No one escapes
During the  Day of the Dead urban Mexicans humorously comment on current events. Satirical poems and cartoons in the newspaper depict skeletons playing the leading role in day-to-day situations. Skeleton dolls are dressed like real people, such as firemen or musicians, or portray an uneasy confrontation in the domestic sphere. 
The papier-mâché scenes are always cheerful and provide ironic commentary on everyday life, events, well-known people and traits of human character… knowing, of course, that ultimately the same fate awaits everyone.  
Below a life-size orchestra of papier-mâché displayed in Museum Volkenkunde, Leiden, in the Central and South America gallery.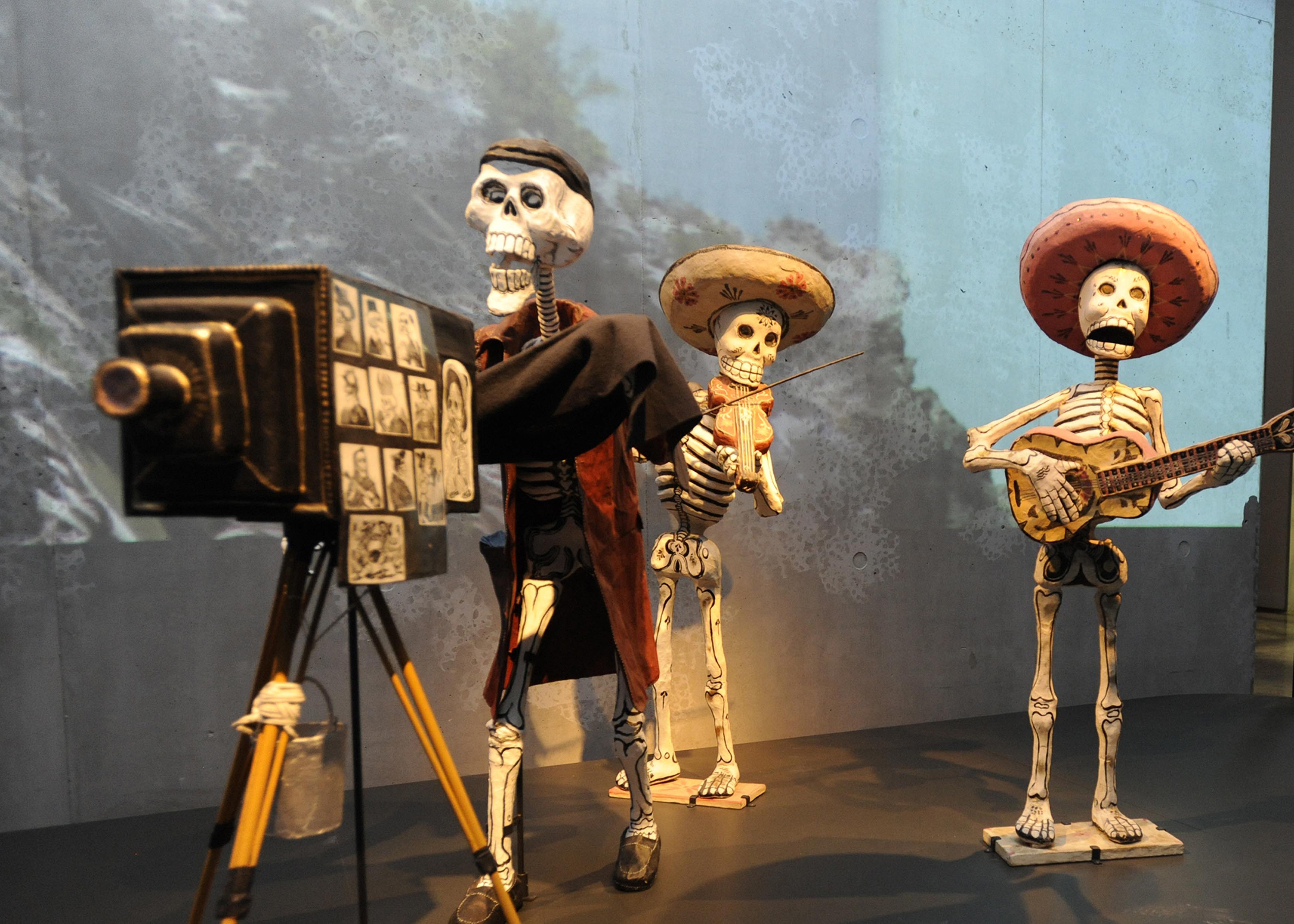 From left to right below
- Motor-bike officers are not well liked in Mexico City but they are everywhere. C. 1990, TM-5290-278
- Two skeletons lying in a bed, an angry spouse at the foot end. A bra is on the table. C. 1990.TM-5290-32
- This earthenware tree-of-life candle holder (c. 1970) depicts an orchestra with a mandolin and two guitars, around a laughing sun and with a garland of leaves, flowers and rosettes. An orchestra of skeleton dolls playing music is a popular theme. RV-4514-133
Take a look round the corner
Besides papier-mâché dolls, show boxes are also hugely popular in Mexico. Show boxes displaying skeleton dolls are sold in all shapes and sizes throughout the whole year. Most of them are made in studios in the state of Pueblo.
Like the skeleton dolls, these cheerful scenes make ironic, sometimes also political comments on daily life, events, well-known people and human character traits. 
The magnificent show box on the left dating from 1993 doesn't immediately reveal its contents. When you turn a lever the small skeletons raise their arms and the bigger skeleton rises from the coffin. TM-5527-4
On the right an open show box from 1998 with a barman and three customers having a beer. By turning a lever the arms go up. The word Fandango probably refers to an old saying - este mundo es un fandango – all that's worldly perishes. TM-5777-7
La Calavera Catrina
A skeleton doll seen absolutely everywhere during Día de Muertos is La Calavera Catrina (the elegant skull), a rich upper-class lady with a large hat, slim figure and beautiful dress. Jose Guadalupe Posada drew her in 1913 to convey that people with lots of money or pretensions will also die.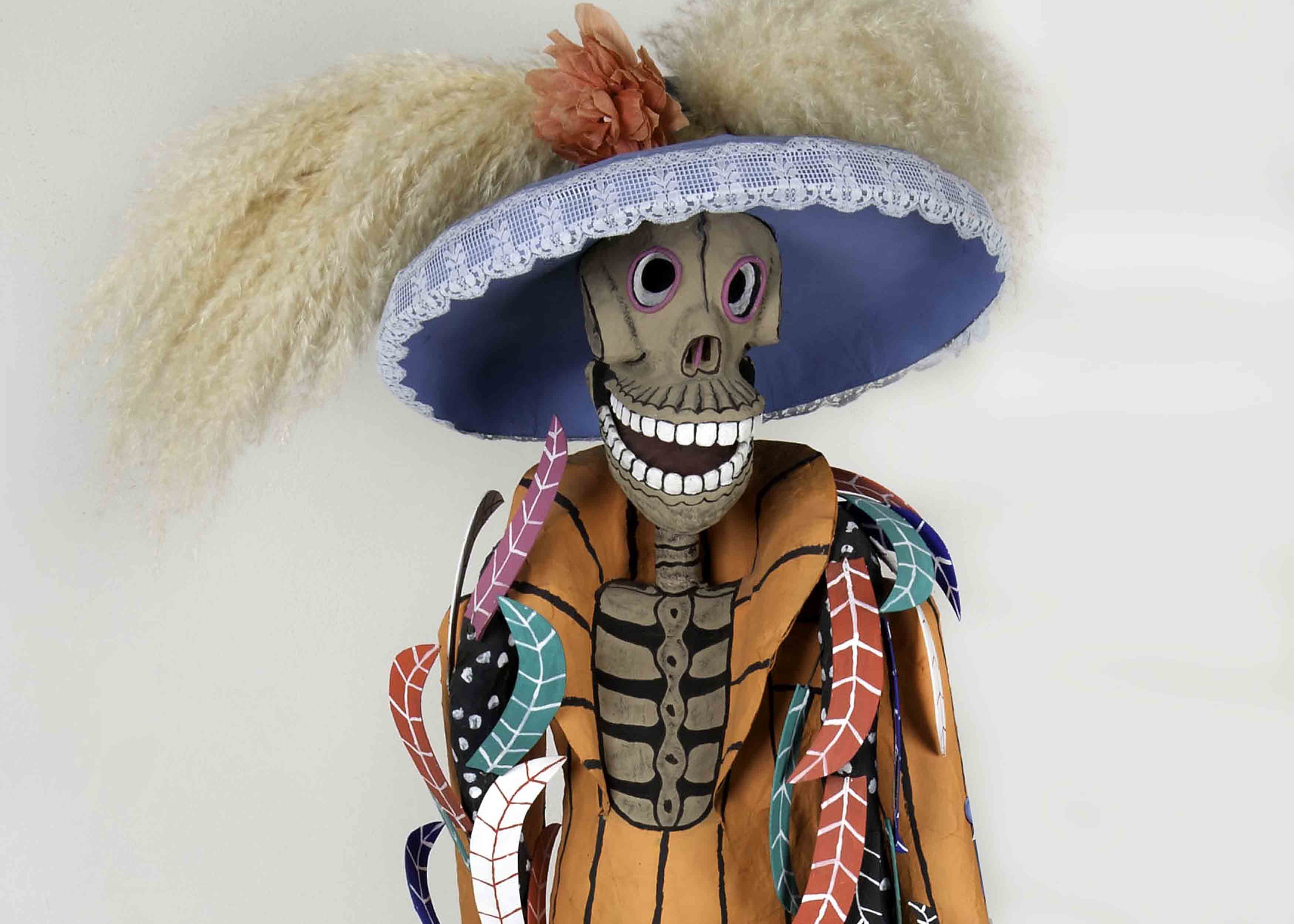 TM-5290-274
That La Calavera Catrina is particularly popular in Mexico is also evident in a really large mural painted by the artist Diego Rivera (Frida Kahlo's husband) in 1947-1948 in Hotel del Prado in Mexico City.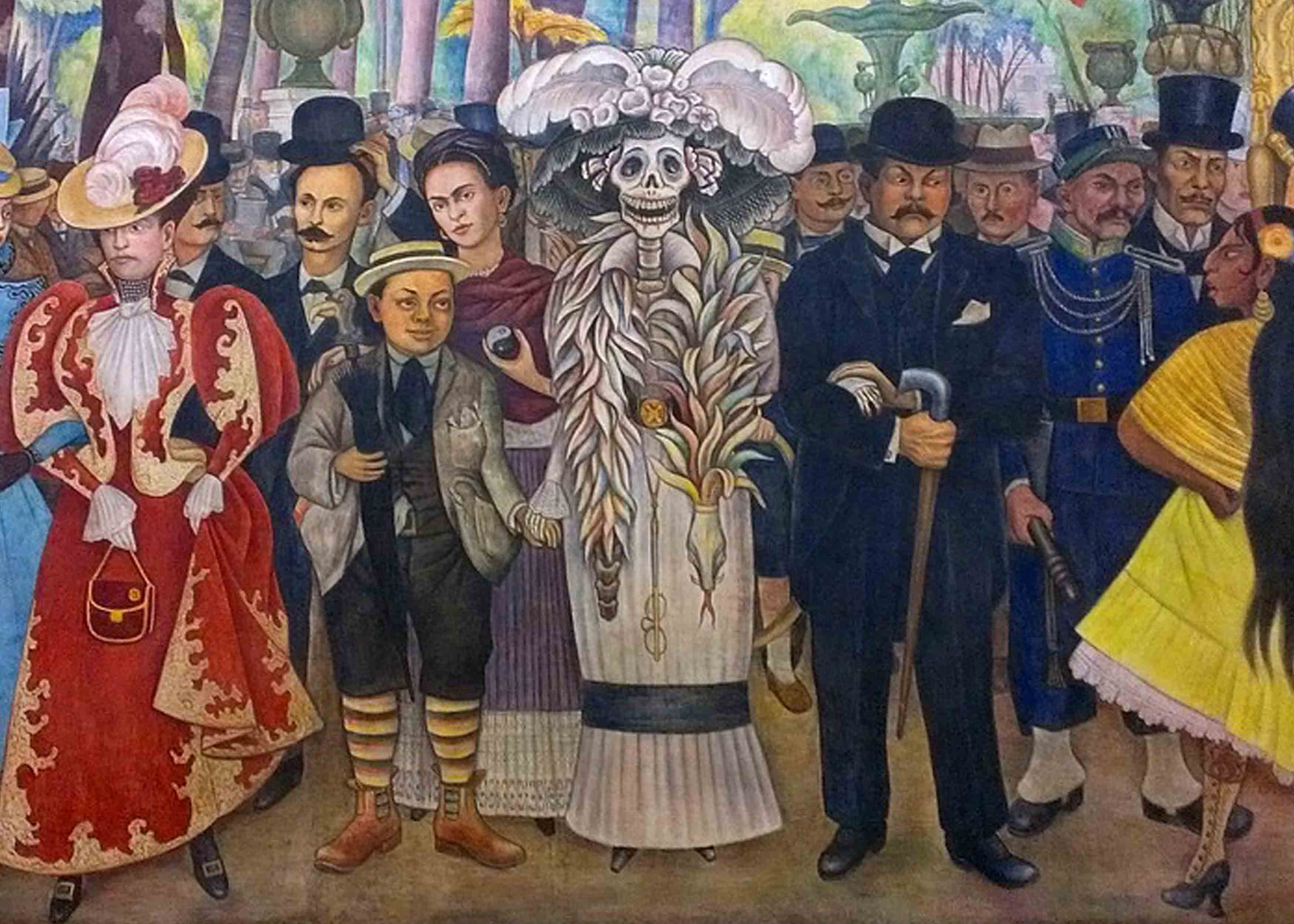 Image: Goldenmonkey 
Festival kitchen – make your own sugar skull
Do you also want to celebrate Día de Muertos at home and make something good to eat or something special in honour of your dead loved ones? Then watch the special  Festival kitchen video and make a sugar skull with Diederik and guest chef Edoardo. Or make your own papel picado party streamer and check out the other home activities we've specially thought of for Día de Muertos.  (Only available in Dutch)