The exhibition Divas showcases the lives and careers of the greatest female artists of the Arab music and film world of the last century. Women whose work had a worldwide artistic and social impact. Four well-known divas from the exhibition are Umm Kulthum, Asmahan, Fairuz and Warda. On these pages you can read more about their lives and careers, and listen to their music.
Warda 1939-2012
Warda Ftouki acquired fame as Warda Al-Jazairia ('the Algerian rose'). She was born to a Lebanese mother and Algerian father. She started her career as a nine-year-old in her father's cabaret in Paris, the TAM TAM (derived from the initials of Tunisia, Algeria, and Morocco.) Her songs reflected her involvement with the Algerian struggle for independence from France. After her father was accused of concealing weapons for the Front de Libération National Algérien (FLN), she was forced in 1956 to live in exile with her family.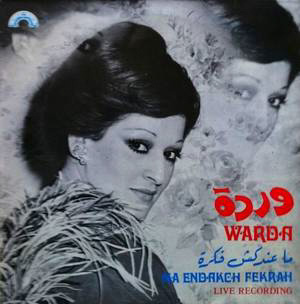 It was only in 1962 when Algeria became independent that she came to know her homeland. In 1972, she was invited by Algerian president Houari Boumédiène to sing during the anniversary marking the country's independence. After that, Algerian independence continued to be an important theme in her work. With her musical style she kept alive the legacy of Umm Kulthum, while at the same time adding new sounds from the Maghreb. Warda's career, which was marked by exile and played out in Paris, Beirut, Cairo, and Algiers, displayed the cultural solidarity of the Arab region and the diaspora community originating from it.